My name is Susanne Müller and I wear my heart on my sleeves – because I am a celebrant with body and soul. I mainly work in the Regensburg and Munich area, but I am also very happy to be there for you anywhere in Germany and around the globe.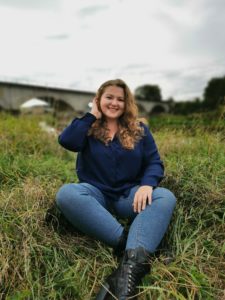 Susanne – the person
Outwardly rather calm, things can get crazy in my head.
I like cozy evenings with a good book, a Disney film or relaxed painting a picture as well as singing and dancing loudly and wrong, science fiction and medieval festivals.
Most of all, however, I like to be out in nature with dogs, llamas or horses and let my mind wander.
My greatest passion is definitely traveling, learning new languages and immersing myself in foreign cultures.
    S   elf-ironic 
    U   nique
    S   oulful
    A   dventurous
    N   octurnal
    N   ature-lover
    E   motional
Susanne – the celebrant

My character and nature are of course also reflected in my work.
As a celebrant, I am your perfect fit if:
… you want a contemporary, creative and very individual ceremony.
… the celebration to be in a relaxed, but still festive setting.
… you want a multicultural ceremony or a German/English speech .
… you are looking for a speaker who has a calm presence.
… you want a slightly different ceremony.
As celebrant Deine Rednerin Susanne Müller, I stand for empathy, an open-minded attitude, flexibility and professionalism as well as giving speeches with that special "something".
My education / certificates:
Freie Rednerin (IHK)
training as a funeral speaker at "Die Grabrednerin"
Wedding Planner (IST Institute)
BA Tourism & Event Management
And now I'm looking forward to learning something about you too! Just contact me.